Cuatroochenta just developed an innovative and customized CRM for iPad hired by the Spanish multinational pharmaceutic company Faes Farma. The application has already been implemented in Colombia with the aim of extending it to its delegations in South America and Africa. Thus, Cuatroochenta becomes one of the most advanced companies in Spain in the field of application development. The young firm has also launched mobile applications for urban incident management, menus for restaurants, products from various sectors, tourism or media for public and private institutions.
The new CRM (Customer Relationship Management) for Faes Farma -Spain's fourth pharmaceutical company, listing on the Madrid Stock Market- is an advanced and 100% customized tool which helps salesmen manage the relationship with clients in an agile way, having catalogues, routes and orders on the iPad, with no need of connection. Charts of visits, client directory, taking orders and any kind of utilities to help improve sales.
The implementation of the mobile application has started in Colombia, with the technical assistance of Cuatroochenta team, who travelled to Colombia for one week to make the final programming adjustments and train salesmen. Faes Farma is in 61 countries in Europe -where it has over 800 employees-, Latin America, Africa and Asia, and it aims to continue implementing the application at an international level.
Faes Farma CRM is the most recent development of Cuatroochenta. It has developed applications for Smartphones and tablets for various sectors and with very different features, always looking for maximum customization. By instance, the Hotel Voramar in Benicassim released, last September, its new iPad wine list. Its guests can consult information about wineries, certificates of origin, pairings, prices, etc. in an agile and enjoyable way. Within the tourism sector, Cuatroochenta has also developed applications for Castellon Tourism and Castellon festivities for iPhone and Android.
First awards to Cuatroochenta
Despite having only one year of trajectory, Cuatroochenta has already gotten various awards. Besides being invited to various forums on innovation, the company's responsibles were awarded with the Radio Castellon-Cadena Ser award last October, in the category of Science. In addition, the mentioned CRM for Faes Farma was presented at the last iWeekend in Castellon, which has been featured on the Spanish Television.
The young company specializes in the development of applications for Smartphones and tablets, but also offers ad-hoc advanced programming services to improve work processes. Our team is composed of professionals from a variety of disciplines: programming, industrial design, market research and marketing.
>Published on the Economic supplement of Mediterraneo Newspaper  (12-13-11):
>Published on the digital edition of the newspaper El Mundo-Castellón al Día: "An iPad application for drug company salesman ":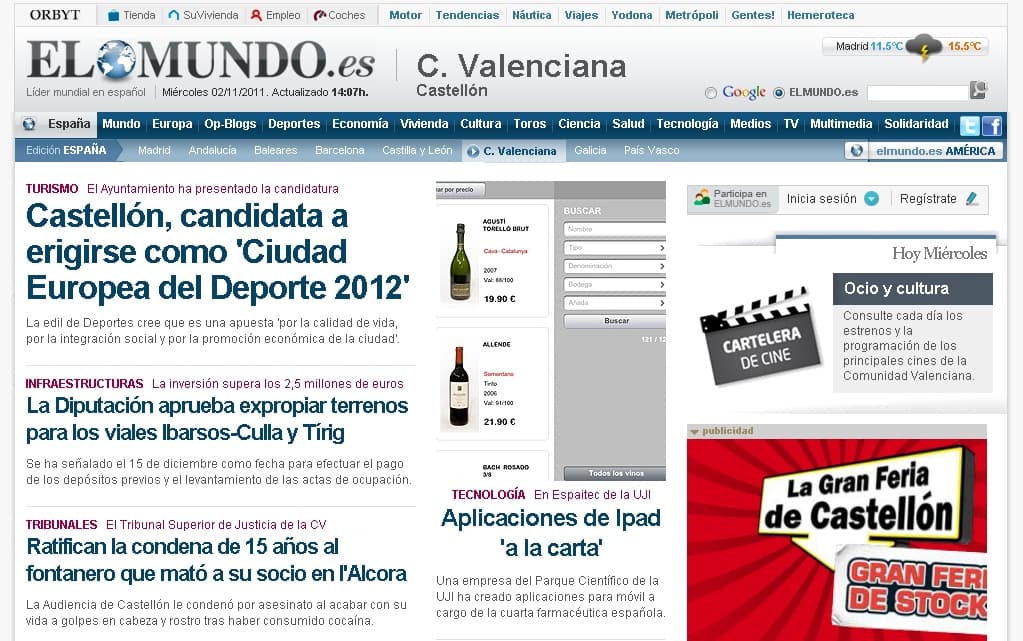 >Published on the newspaper: El Periódico Mediterráneo: 'Orders for pharmacies via iPad with UJI technology'